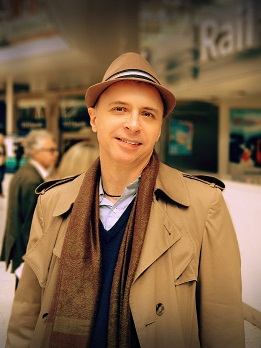 Colman Jones is an award-winning writer, investigative journalist, radio broadcaster, musician and composer, living in Toronto, Canada. He works on staff at the Canadian Broadcasting Corporation (CBC), Canada's public broadcaster, as an associate producer for CBC News, where he helps assemble segments for the network's news syndication service, as well as for The National, CBC-TV's flagship nightly newscast.

He has also worked extensively as a web producer, both for the National as well as the network showcase series Absolutely Canadian, which features documentaries, performance and comedy from across Canada. He also served as web producer for many years for the CBC Radio programs IDEAS, and Tapestry, the Canadian Media Guild (which represents most CBC employees), as well as for CBC's 2010 competition Champions of Change, which celebrated Canada's top volunteers in various fields, both domestically and abroad.

You can still watch a hybrid slideshow/radio mini-documentary Colman produced about the winner of the Champions of Change Judges' Choice Award, Nicole Messier (after a 15-second ad) below:


You can also listen to a longer documentary that CBC Radio colleague Steve Wadhams assembled from Colman's interview and original music for the May 13, 2011 Living Out Loud program:
Colman hopes to do more work using this mix of photography and sound, but is always working on various creative projects of one kind or another, whether composing and recording original music in his home studio, taking photos, shooting video, or researching and sharing information on important and interesting topics.

Colman spent 5 years working at CBC News: Sunday, producing and editing segments - as well as maintaining the website - for the former weekly television newsmagazine, which aired its final live morning edition on May 31, 2009 (see video page for more details). He then continued his web work at The National, taking over regular site maintenance during the design and preparation of the current upgraded version, before shifting into general production duties for the program until the summer of 2012, when he began helping assemble news reports for the foreign assignment desk.

Although he has mostly been working in television and online in recent years, Colman also has lots of experience at CBC Radio, where he has directed and produced for programs including As It Happens (about which he recently produced a 40th anniversary TV retrospective), Sunday Morning, Quirks and Quarks, The Arts Report, Metro Morning, and the former afternoon network show Dayshift.

His main radio contributions have been for the network's prime-time documentary program IDEAS, where he has written and narrated (in some cases scoring) over a dozen science documentaries, garnering four awards from the Canadian Science Writers' Association (CSWA) - including for his 1999 effort "The Bacteria Revolution", which explores emerging evidence linking bacterial infections with chronic disease, and features Colman's original music.
In the summer of 2005, Colman used his radio documentary skills to chronicle a protracted CBC labour dispute, in which 5,500 employees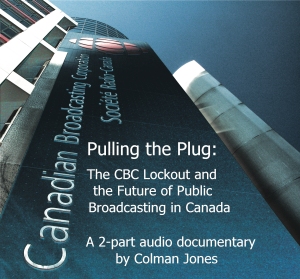 - including Colman - were locked out of their jobs across the country for 8 weeks. During the first few weeks of the lockout, he recorded a series of interviews with workers on the picket line in Toronto, and prepared a 2-part documentary entitled "Pulling the Plug: The CBC Lockout and the Future of Public Broadcasting in Canada", an in-depth account of the dispute as it was first unfolding, documenting a critical time in the recent history of the corporation. Following the lockout, CBC Radio's The Current ran excerpts from these programs to introduce an interview with CBC President Robert Rabinovitch.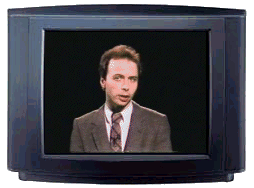 His volunteer contributions at the MacLean-Hunter/

Rogers Cable 10 community channels saw him produce a 4-hour video documentary series, which was honoured with both a Lizzie Award (Current Affairs Category), and another from the Ontario Cable Television Association (OCTA).
Colman spent several years investigating stories for CBC-TV's flagship consumer affairs program Marketplace, one of the network's longest-running current affairs shows. The program was nominated for four years running as Best News Information Program in the Gemini Awards, which celebrate excellence in Canadian English-language television. Among the many stories Colman helped investigate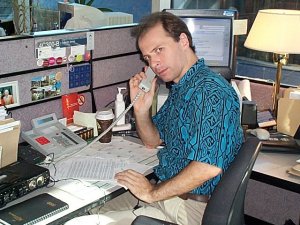 as senior researcher were the regulation of medical devices, the practice of medical ghostwriting, and the business of clinical drug trials for a 3-part series, "Under the Influence", produced in collaboration with CBC Radio. The series garnered Finalist Certificate in the Communications category at the 2003 International Health and Medical Media Awards (also known as the Freddie Awards).
Another Finalist Certificate in the Prevention category went to the full-edition Marketplace report on acrylamide (a known animal carcinogen found in starchy foods cooked at high temperatures), a report which also netted an Honourable Mention at the 2003 Columbus International Film & Video Festival. Colman spent six months researching this segment, subsequently contributing a wealth of additional information to the online report, which attracted the largest number of web "hits" following the broadcast since Marketplace first went online in 1995. He examined controversial advertising pushing a new baby formula, and a week after the Marketplace February 10, 2004 report, federal regulators at Health Canada ordered the product's manufacturer to withdraw marketing claims in violation of Canada's Food and Drug Act.

Colman also served as a producer and researcher for the weekly prime time live debate show counterSpin, an independent production that aired for six years on CBC Newsworld, the CBC's then all-news cable channel (now renamed CBC News Network). He compiled research and chased guests for the program's panel discussions, which challenged conventional wisdom and provoked meaningful dialogue on a host of issues, and which became known as "the place where players, politicians, rabblerousers and the disenfranchised all get together to lock horns and debate the issues of the day."

His writing has been featured in publications such as Canada's national newspaper, the Globe and Mail, The Medical Post, New York's SPIN Magazine, as well as smaller outlets such as This Magazine, Science Link
(the newsletter of the CSWA), the film and television financing magazine Grosvenor Park, Monday Magazine in Victoria, B.C., Creative Loafing, and more grassroots efforts like Phoenix Rising, Lexicon, Rites, and Vancouver's Angles. He's also co-authored scientific papers presented at international conferences and abstracted in peer-reviewed journals (left).

Most of Colman's published work. however, has appeared in Toronto's NOW Magazine, where he has authored dozens of investigative features exploring controversies in health and medicine, from childhood vaccinations to hormone replacement therapy, as well as the business and politics of medicine and science. He has covered topics like Third World debt, international trade deals, and the corporate influence of mass media, while keeping close tabs on the myriad issues raised by the Internet.

Click here for a list of articles archived online. Colman has also helped fix up and promote the magazine's web site, and moderated an internet music panel at the NOW-sponsored North by Northeast (NXNE) festival and conference.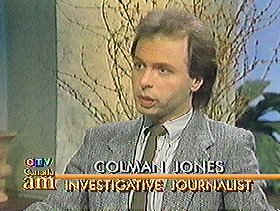 Colman has been invited to speak about his work by a wide variety of organizations, including other media outlets, appearing on national TV shows including CBC-TV's Undercurrents and Midday, Benmergui Live & Sunday Morning Live on CBC Newsworld, CTV's flagship morning news program Canada AM (right), the Women's Televison Network's live phone-in show Jane Hawtin Live, and Prime TV shows Grumps, Bynon and Chronicle. He has also turned up on CBC Radio current affairs shows This Morning and its predecessor Morningside, as well as on Toronto radio stations Talk 640, CIUT-FM and CHRY-FM, and has delivered lectures onboard the Queen Elizabeth 2 luxury cruise liner.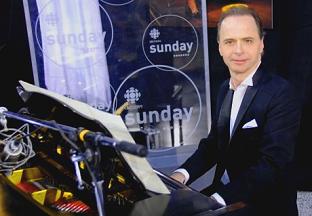 Colman's many years of experience as a musician have seen him record and perform with some of Toronto's most interesting artists, and he provided live piano for the finale live morning broadcast of CBC News: Sunday (left). Overseas, he played a lengthy nightly engagement in England at the famous Soho pub The French House (home of the French underground in London during the Second World War), also appearing at the Menage a Trois restaurant in Knightsbridge and Grosvenor House in Park Lane, while in Paris, France, he played at Le Grand Hotel, located right beside the Garnier Opera House. You can listen to some of Colman's music on his Soundcloud page, as well as on his music page, which features more biographical information and a sampling of older recordings and songs archived on the New Music Canada and Reverb Nation websites.
---
E-mail: webmail@colman.net
Last updated June 29, 2012
Copyright © 2012 by Colman Jones. All rights reserved.