Colman's radio work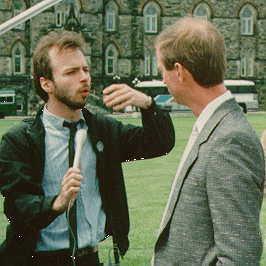 Colman has written and narrated over a dozen radio documentaries, on topics ranging from antibiotics to astronomy to the nature of scientific discovery itself - mostly for the CBC (Canadian Broadcasting Corporation) radio program IDEAS, but also contributing to other radio programs, both on the CBC and other outlets.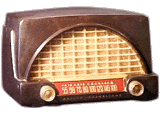 Colman has been fascinated with the radio medium ever since he was a kid, when he used the family reel-to-reel tape recorder to make his own mock radio programs, complete with commercials, putting on different voices, mixing in sound effects and music, interviewing friends about school, etc. a hobby which continued through his teenage years. After graduating from high school, his ambition to get on the air led him to enrol in a 6-month Radio/TV Broadcasting Course at Career Canada, where he learned the basics of both radio and TV production.
After a few years spent exploring the music business, he was hired to work in the CBC's national TV newsroom, and not long after got a job directing and packaging the former CBC Radio current affairs program Sunday Morning.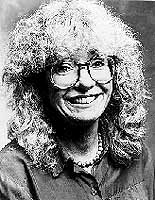 He later landed a regular on-air gig on the network's afternoon program at the time, Dayshift, with host Erika Ritter (left), with whom he appeared every two weeks to chat about unusual music - be it animal sounds, music for plants, or computer algorithms based on the positions of the planets. Colman even brought in his former music travelling partner, Reeves Miller, to reminisce about their days as lounge lizards. He hopes to post some of these old segments online at some point.
Then came a series of stints at vario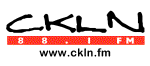 us other CBC Radio programs, including Quirks and Quarks, The Arts Report, Prime Time, Metro Morning, Radio Noon, and subsequently As It Happens, where Colman chased down guests for interviews, directed the live show in the studio, and later accepted a staff position as production assistant (interestingly enough, 20 years later, he found himself producing a 40th anniversary TV retrospective on the show for CBC News: Sunday). At about the same time, he began contributing items to a weekly radio show on community radio station CKLN, composing theme music, writing up news stories from clippings, assembling creative sound collages, and doing the occasional interview.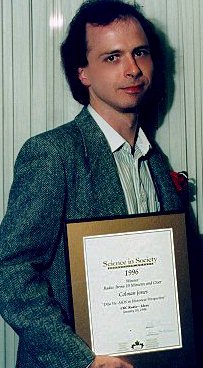 These skills were later put to good use at the CBC's nightly radio program IDEAS, where Colman has worked on documentaries on a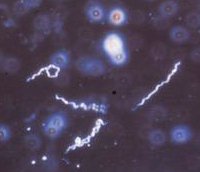 number of different topics, challenging conventional wisdom on everything from antibiotic resistance to the Canadian tainted blood scandal, the size and age of the universe - even the very nature of scientific discovery itself. Four of these series have won awards from the Canadian Science Writers' Association (CSWA), including the 1999 series "The Bacteria Revolution", which explores emerging evidence linking specific bacteria with a wide variety of diseases. These discoveries are causing a big rethink with regard to the role of micro-organisms in diseases of humans, with implications for everything from diagnostic practice to theories about the process of evolutionary change.
Detailed in the first program is a revolutionary technique for culturing previously undetected spirochetes in the blood of patients suffering from chronic Lyme disease, shedding light on bacteria that resist standard treatment and become invisible to the body's immune system.
Colman travelled to New York City to attend the 12th International Conference on Lyme Disease and Other Spirochetal and Tick-Borne Disorders, where he was also co-author on a scientific poster presented at the conference.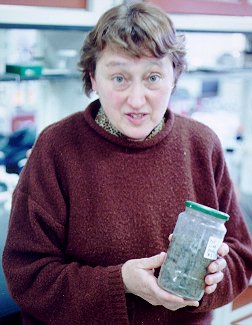 He had the honour of spending some time with keynote speaker Willy Burgdorfer (upper left), the scientist who originally discovered the bacterium which causes Lyme disease, the spirochete Borrelia burgdorferi (upper left), named after him. Colman then went on to beautiful Amherst, Massachusetts, where he interviewed biologists Paul Ewald and the wonderful Lynn Margulis (right).
The two-part "Bacteria Revolution" series - which aired on IDEAS May 28 & June 4, 1999, (repeated on February 22 & 29, 2000), featuring an extensive illustrated summary and bibliography - came on the heels of the 5-part 1998 series on antibiotic resistance Colman and fellow writer Jill Eisen prepared, "Antibiotics vs. the Superbugs, or Whose Planet is this Anyway?". Colman travelled to England to interview an old colleague of Sir Alexander Fleming (who discovered penicillin), and to New Orleans to attend the 35th annual Interscience Conference on Antimicrobial Agents and Chemotherapy (ICAAC), where he interviewed physicians, infectious disease specialists, immunologists, and ethnobotanists , while back in Canada, Colman attended the 1997 ICAAC, held in Toronto, visited a family doctor's office, as well as our local Mount Sinai Hospital's impressive microbiology lab. He also linked up with a top U.S. expert, Stuart Levy (left), who later became the ASM's president, and director of Boston's Center for Adaptation Genetics and Drug Resistance.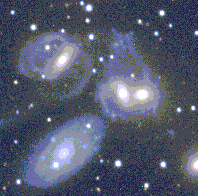 Colman has also covered controversies in the field of astronomy, specifically over the business of using the redshift of stars and quasars to measure their distance, that is, the amount that their light is shifted towards the red end of the spectrum. Some are wondering whether the redshift measurement technique is really an accurate gauge of distance, in light of some peculiar interacting galaxies that have been uncovered by an American astronomer named Halton Arp (right). Colman interviewed Arp in Munich (

where he now works at the Max Planck Institute for Physics and Astrophysics after being hounded out of the U.S.) along with a number of other prominent astronomers about this contentious issue, which threatens to shake the very foundations of astronomy, calling into question our most fundamental assumptions about the universe, including its age and size, even the basic laws of physics! The program, entitled "The Redshift Controversy", also earned an Honourable Mention in the CSWA's 1993 Science Journalism Awards (Radio Items Over 30 Minutes) (the size and age of the universe is still under considerable debate, by the way).
There was also an interview Colman recorded with Michigan State University professor Robert Scott Root-Bernstein (left), who has written extensively
on not only the relationship between art and the sciences, but also the fundamental processes behind new scientific discoveries, most notably in his book "Discovering: Inventing and Solving Problems at the Frontiers of Scientific Knowledge". Colman put a show together in 1995 based on his interview the previous fall when Root-Bernstein was in town to give a talk at York University.
When it seems appropriate, Colman will compose an accompanying original soundtrack to the documentary he is working on, since much of the music he writes seems to lend itself well to documentary purposes, but he avoids having it distract from the content of the program.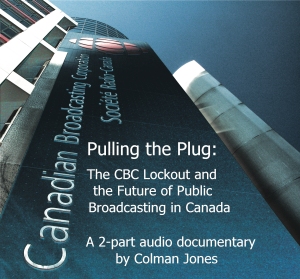 His most recent radio project was actually an independent effort, chronicling the protracted 2005 CBC labour dispute, in which 5,500 employees who were members of the Canadian Media Guild (CMG) - including Colman - were locked out of their jobs across the country for 8 weeks. During the first few weeks of the lockout, he recorded a series of interviews with workers on the picket line in Toronto, and prepared a 2-part documentary entitled "Pulling the Plug: The CBC Lockout and the Future of Public Broadcasting in Canada", an in-depth account of the dispute as it was first unfolding, documenting a critical time in the recent history of the corporation. The programs were posted at the time on the comprehensive independent site CBC Unplugged, set up run by broadcaster, author, technology futurist, and podcaster Tod Maffin, a site that served as the primary source of news and information on the lockout, redistributing audio content about the lockout, including picket-line shows, documentaries, and opinion pieces. Following the lockout, CBC Radio's The Current ran a few excerpts from the programs to introduce an interview with CBC President Robert Rabinovitch.
Colman has been invited from time to time to discuss his ongoing journalistic activities on other CBC Radio programs, including on the network's now-defunct Morningside program with Peter Gzowski and its successor This Morning, as well as on other stations, like University of Toronto community radio station CIUT-FM, where he was featured repeatedly in the early 1990s on Hans Burgschmidt's show Undercurrents (no relation to the later CBC-TV show of the same name), as well as Bruce Cattle's Wednesday morning Caffeine Free program. Colman has also appeared on Toronto station Talk 640, with Reiner Schwarz on his 90-minute Village Voice phone-in,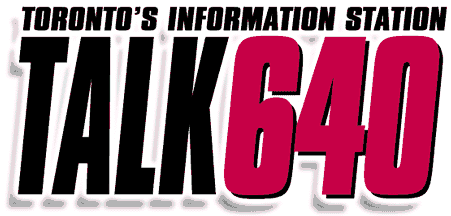 discussing regulations on natural remedies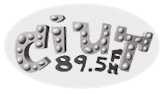 on one occasion, and new paradigms in science and medicine in general on another, as well as being interviewed on the morning show with Jane Hawtin (now a CBC Radio host).
Colman has also done freelance narration and production work, engineering a series of short radio spots for the National Research Council and the Ontario Psychological Foundation with his fellow science writer friend Russell McNeil, and a series of radio and television public service announcements he helped produce for the Toronto Environmental Alliance.
Colman's interest in radio extends to experiments with streaming live audio, using either the Windows Media Encoder/Player software, or the SHOUTcast Distributed Network Audio Server in conjunction with the Winamp Media player.
---
E-mail: webmail@colman.net
Last updated July 20, 2010
Copyright © 2010 by Colman Jones. All rights reserved.