Colman Jones: TV, film & video work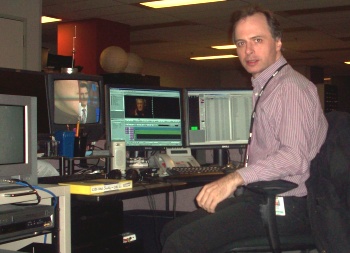 Although Colman's experience lies chiefly in radio and print journalism, for the last few years he has been working at various television news and current affairs programs at the CBC, currently serving as an associate producer for the network's foreign assignment desk, following a 3-year stint at CBC's flagship TV newscast The National.
Prior to that, he spent 5 years producing and editing segments for the former weekly two-hour newsmagazine CBC News: Sunday,


examining everything from the business of predicting the future to the troubles currently facing the newspaper industry. His pieces have examined the hazards of cell phone obsession, excess alcohol consumption,

and posting personal information online.

He produced a profile of Swiss chemist and LSD discoverer Albert Hofmann the week he died; an item examining the ethical/medical debate over when life actually ends; a look back at 40 years of the

CBC

Radio program As It Happens (where Colman worked for several years earlier in his career); an overview of the Canadian fringe political parties running in the 2008 federal election; a look at Google on its tenth birthday;

a segment about how constant interruptions from electronic devices lower IQ scores; and

a humorous review of amateur footage allegedly depicting the legendary creature Bigfoot.
His first assigment for the Sunday program had him following Canadian actor and writer R.H. Thomson up to the

annual Couchiching conference in Northern Ontario, where Colman helped shoot and produce a contemplative video essay on Canadian identity, also composing the incidental music.

He later gathered material for a weekly summary of unusual events around the world, and also organized live discussions, locating and booking live guests to talk about the marketing of fair-trade coffee, the future of economists who failed to predict the financial crisis, and a striking case of paternity fraud. He also helped film-maker David Ridgen gather information for his award-winning documentary "Mississippi Cold Case",

edited together a web-exclusive collage of Canadian soldiers

sending Father's Day greetings from Afghanistan, and contributed a wealth of research and online content for a special half-hour report examining challenges to the official account of 9/11.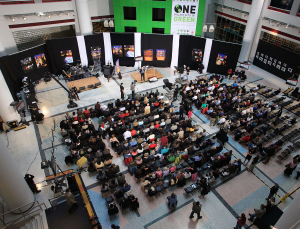 CBC News: Sunday broadcast its final morning show May 31, 2009 live from the CBC Atrium (left) - and you can watch the whole thing online, in eight parts. Colman played piano during the commercial breaks, dressed in a tux, and was briefly introduced on-air.
He then moved on to work on the website for The National, taking over regular website maintenance during the design and preparation of the show's new online presence, posting video segments, assembling additional online content, moderating viewer comments, and promoting the program on the internet, including via social networks. In the summer of 2012, he began working on the network's foreign assignment desk, helping assemble reports for both the network's news syndication service and the National.
---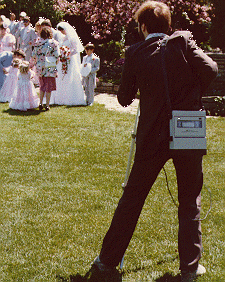 Colman has been working with visual media, in one form or another, ever since he started playing around with the family Super 8 camera at the age of 12, editing together home movies with using a simple film splicer, and creating soundtracks with music, sound effects and voice-overs. This later developed into an interest in home video, with Colman acquiring production equipment for both artistic dabblings and professional work. Working out of a small production company, he offered video recording services for various live events, as well as transfers from film to video, producing industry presentations for corporate clients including Avanti Computers, Dominick Hunter, Cyrus K. Clothing, and the School of Chinadance.

Colman has also learned many valuable technical skills freelancing as a film projectionist at a number of different houses in Toronto during the 1990s. These included Cinematheque Ontario's theatre at

the Art Gallery of Ontario's Jackman Hall, as well as their private screening room on Carlton Street, the Royal Ontario Museum's theatre (lower right), the Canadian Film Centre, as well as the now-defunct Euclid Theatre,

dealing with 35mm, 16mm and 8mm film formats, Betacam, 3/4" and 1/2" video, computer hook-ups, slides, overheads, as well as double system set-ups, running audio tape with sprockets on a separate dubber machine in sync with the film projector.

Most of his projection duties, however, were at the John Spotton Cinema, housed in the National Film Board of Canada in downtown Toronto, where Colman has shown private press screenings as part of September's huge

Toronto International Film Festival, as well as hundreds of other films at the cinema. These ranged from foreign features to animation to some superb documentaries, and he also used the theatre to arrange a screening of one of his own video documentaries, "Lest We Forget", on November 15, 2000, amidst many other interesting films, including "Manufacturing Consent", by Mark Achbar and Peter Wintonick, which explores the political life and ideas of Noam Chomsky, and

Achbar's subsequent brilliant feature documentary, "The Corporation" (right), which analyzes the very nature of the corporate institution, its impacts on our planet, and what people are doing in response.
---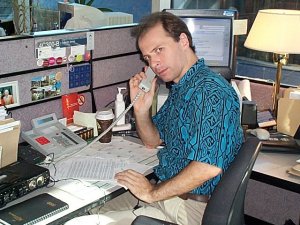 After working for a number years as a freelance writer, radio broadcaster, and projectionist Colman eventually returned to mainstream television, joining CBC-TV's flagship investigative consumer affairs program Marketplace as Senior Researcher. One of the network's longest-running current affairs shows, Marketplace was nominated for four years running as Best News Information Program in the Gemini Awards, which celebrate excellence in Canadian English-language television. The Marketplace website has been a regular top ten entry in the Geminis competition for the Most Popular Website, where you can read about all the stories Colman worked on for the show, including:

Prior to joining CBC News: Sunday, Colman worked as a producer for the weekly prime time live debate show counterSpin, which over the years became known as "the place where players, politicians, rabblerousers and the disenfranchised all get together to lock horns and debate the issues of the day." He compiled research and chased guests for the program's animated panel discussions, which challenged conventional wisdom and provoked meaningful dialogue on important issues. Colman worked on episodes dealing with the war on terrorism, Missile Defence, the Hutton Inquiry in the UK, the Summit of the Americas, then-unfolding events in the Middle East, Iraq, Haiti, Pakistan, South Africa, and in Canada, the 2004 federal budget and sponsorship scandals,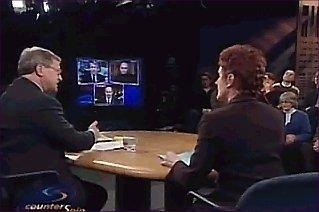 Canada/U.S. relations, the role of religion in the justice system, and the future of public health care. His research into all these issues brought him a renewed awareness of international geopolitical trends in the wake of September 11, considerably sharpening his critical journalistic skills in dealing with subsequent developments.
In spite of over 2,000 viewers signing an online petition to keep the show on the air, counterSpin aired its final broadcast May 12, 2004, following a highly successful 6-year run on CBC Newsworld, the CBC's then all-news cable channel (now renamed CBC News Network), and was also broadcast across the U.S. on Free Speech TV, and hence available in over 11 million American homes on the DISH Network, and on 88 community access cable stations in 23 states.
He has always supported (truly) independent media,

and is very interested in projects like Witness, that work to strengthen grassroots advocacy by making video and technology tools available to local organizations worldwide - spotlighted in

the spell-binding documentary "Seeing is Believing", by Peter Wintonick and Katerina Cizek - and BigThink.com, whose creators hope to encourage online discussion of important issues by fostering an interactive video dialogue.
Colman has also worked in independent media himself, producing both radio programs for Toronto community radio stations CKLN-FM and the University of Toronto's CIUT-FM, and a 4-hour video documentary series for the MacLean-Hunter/

Rogers Cable 10 community channel, a volunteer effort that was honoured with both a Lizzie Award (Current Affairs Category), and another from the Ontario Cable Television Association (OCTA).
---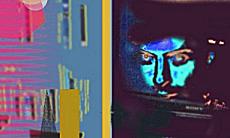 Colman's interest in film and video also extends to more esthetic, artistic endeavours., and he is planning on converting more of his earlier video art projects for viewing on the web, and has also been conducting occasional experimental streaming live video/audio transmissions over broadband connections. He closely follows developments in streaming technology, and watches with interest as the opportunities for decentralized broadcasting via the internet slowly begin to eclipse the existing corporate-controlled radio and TV infrastructure.
---
E-mail: webmail@colman.net
Last updated June 29, 2012
Copyright © 2012 by Colman Jones. All rights reserved.