Colman Jones: the musician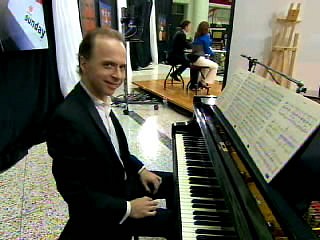 Music has always been Colman's first love, and he has enjoyed a very diverse musical career, collaborating with a wide array of different artists in a variety of genres, as well as appearing as solo pianist, both in Canada and Europe. His musical talents were called on for the finale episode of the weekly television program he worked on for five years, CBC News: Sunday. For this truly historic television retrospective, broadcast live from the CBC Atrium in downtown Toronto, he was asked to play piano during the commercial breaks (left), and was even briefly introduced on-air by the show's hosts.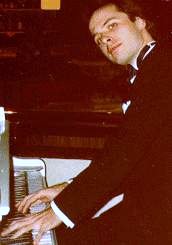 During a stay in England, Colman appeared at London nightspots including the Menage a Trois restaurant in Knightsbridge (once a favourite of Princess Di), and Grosvenor House in Park Lane (right), where he tinkled the ivories on a beautiful all-white grand piano located right in the middle of the hotel's main restaurant.
He also performed a lengthy engagement at the famous Soho pub The French House (left). At this home of the French underground in London during the Second World War,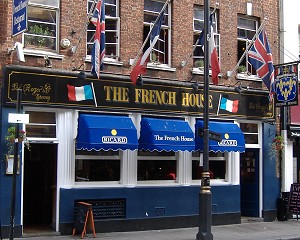 he met a wide variety of interesting characters, heard a great many colourful tales, and enjoyed many a fine gourmet meal in the pub's exclusive second floor restaurant, where he entertained dinner guests nightly with a blend of modern and classic selections (including, naturally, French songs from the 1940s).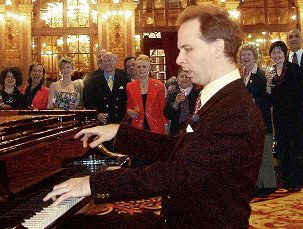 Speaking of France, Colman used to live and study in Paris, where he trained on classical piano, drawing tremendous inspiration from city's timeless surroundings and rich tradition. On a recent trip back, he revisited many of the places he remembered from his time there, and was lucky enough to play in two different rooms of Le Grand Hotel (including the Opera Ballroom, right), a historic venue docked along the side façade of the Garnier Opera House.
---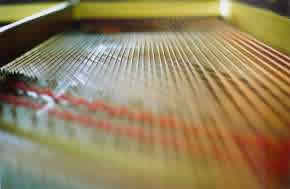 A prolific composer in his own right, Colman has scored many of his own radio and television documentaries, and continues to record material in his home-based recording studio in downtown Toronto. Most of Colman's original music is instrumental, with a style derived from an eclectic array of influences, from pop to folk to progressive rock and jazz fusion, but his interest extends to more experimental work as well. You can either download/listen to a 9-minute film/TV sampler he put together, or check out some mp3 tracks posted online below, on the the site Reverb Nation.

There are also some more experimental tracks on the NewMusicCanada site, part of cbcradio3.com, which showcase new and emerging Canadian music and culture.
---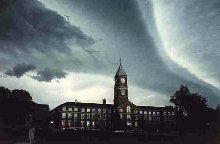 Colman's years as a musician began when he was a teenager attending Upper Canada College (pictured on the left), where he played in high school rock bands, with names like Vision and S.K.L.A.R.B. (the Space Kinetic Library And Research Band). After graduating from UCC, he worked with schoolchum
Reeves Miller, accompanying singers Gayle Manley and Mary-Jo Maur, and later teaming up with Reeves' older brother Clark, forming a country rock trio called The Miller Brothers (right). They toured extensively across southern Ontario, and made a number of interesting demo recordings. Reeves and Colman also performed and recorded with rock band The Heat, winners of Toronto radio station Q107's Homegrown Contest. They later branched off on their own, forming a top 40 duo called Crossover.
But Colman's taste in more cerebral, progressive sounds led him to seek out other collaborators, which he found in the form of drummer Adam Little and guitarist Michael Thompson. The two were working up a series of innovative, mostly instrumental tunes, subsequently hooking up with bass player Don Stabler to form a band called 241-2121. The unusual name stemmed from a phone number which - back then, at least - connected callers to a siren-like oscillator sweep up and down the audio frequency spectrum.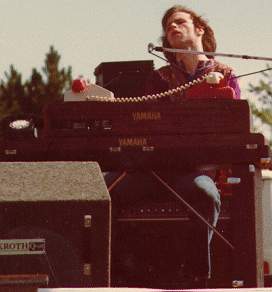 Colman joined on keyboards - while also working, ironically, at a small telephone store - and the four played a series of gigs at now defunct venues such as the Cabana Room, Queen City Tavern, Larry's Hideaway, and most notably the Turning Point on Bloor Street. Adam's brother Martin usually took care of the engineering and recording duties, with most performances taped. The band used the actual sound from the phone line in recordings, creating a truly "telephonic" atmosphere, with old phones and handsets scattered all over their stages. Adam designed the band's distinctive posters (above), which he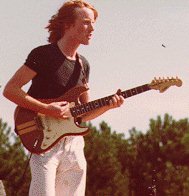 and Colman spent many hot summer nights putting up in - yes, you guessed it - phone booths, to promote upcoming gigs.
None of them took the music business all that seriously, so the music had little - if anything - to do with the prevailing New Wave craze at the time. The band's repertoire - most of it penned by Mike (left) - constituted a particularly frenetic brand of jazz/rock - intense, riveting pieces - often ranging over 10 minutes in length - with titles like Epileptic at the Disco, Third World Shuffle, Lucifer in Starlight, Kyrie Get Off the Phone, Prolix, Rhinoceros - adopted at one point as the theme song for the Rhinoceros political party - and an incredibly long and complicated epic simply called The Song. Colman, Adam and Mike subsequently moved into an old warehouse space in downtown Toronto, where they spent time writing new material, rehearsing and recording.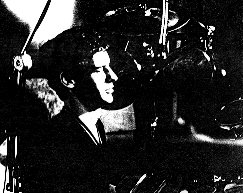 A couple of years and a few personnel changes later, Colman found himself working with Adam (left) and bassist Jeff Boyce (right) in a progressive rock trio named NRG, a title coined well before the term came into common use among the rave circuit. The three played bars in the Queen Street West district of Toronto, and began experimenting with performing live soundtracks to films. The first of these was Fritz Lang's highly experimental 1926 classic Metropolis, the first big budget science fiction movie ever made, whose cryptic quality lent itself perfectly to the improvisational nature of the accompanying live music.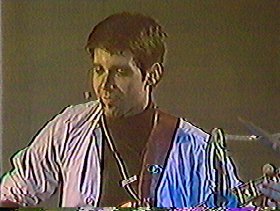 NRG took pride in being the first band to perform a truly evocative, interesting instrumental score (usually half-written, half-improvised) to this film classic, long before the dozens of copycat attempts that have since flourished.
Initial performances took place at Toronto's Bathurst Street Theatre, under the auspices of eccentric film promoter Reg Hartt. They later took the show to Toronto's main repertory theater, the Bloor Cinema, where the band performed to two sold-out evenings, receiving standing ovations.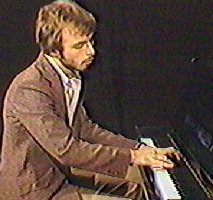 After Colman left the group, he performed the odd stint as cocktail pianist, appeared as a Musician of the Month on the Rogers Cable TV weekly magazine show Metro Focus 90 (left), subsequently going back on the road with Reeves again in another top-40 duo called Twilight, before switching gears and pursuing a career in radio and print journalism.
But Colman nevertheless remained active in music, joining Toronto busking trio Holy Smoke for a series of high-profile gigs, recording sessions, and television appearances, later accompanying singer Gwyneth Baillie after she left the group to form a solo career. He has also performed with the eclectic Marie-Lynn Hammond (formally of the folk group Stringband) at various folk festivals including Mariposa, as well as making appearances with The Gloria Shrieve Band, The Roach Motel, and guitarist/composer Michael Keith (lower left, performing with Colman at the Parkdale Then And Now Festival - click here to listen to their set in Real Audio, takes a while to load).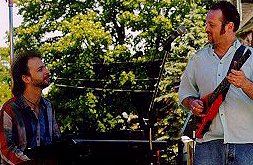 Listen to Colman & Michael Keith at the Parkdale Then and Now Festival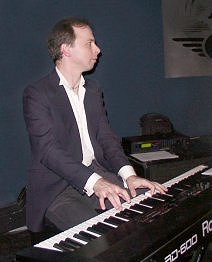 He has played at a variety of Toronto venues, including Mezzrow's, The El Mocambo, The Rivoli, The Pilot (left), The Free Times Cafe (where he appeared solo as part of "Poetic Licence", a series of evenings of poetry and music), and the Parkdale Then And Now Festival's "What A Cover, Girl!" (an evening of cover tunes performed by female vocalists), where he accompanied singers Jill Fillion, Beverly Taft, and provided intermission music. He has played at art exhibition openings at the Joseph D. Carrier and Circa 1506 galleries, a reception at Toronto's Beth Tzedec Synagogue, as well as at the occasional private party (looking for a pianist for your next event? Send an e-mail to webmail@colman.net).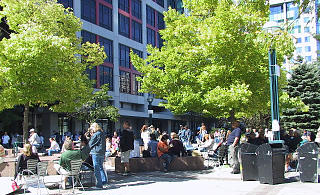 Colman has also recorded and performed with the Garth Douglas Band, pictured below playing at "Lockstock", a series of concerts in August and September 2005 for the benefit of hundreds of CBC workers locked-out of their jobs, assembled outside the Canadian Broadcasting Centre in Simcoe Park in downtown Toronto in the park on a beautiful sunny fall afternoon.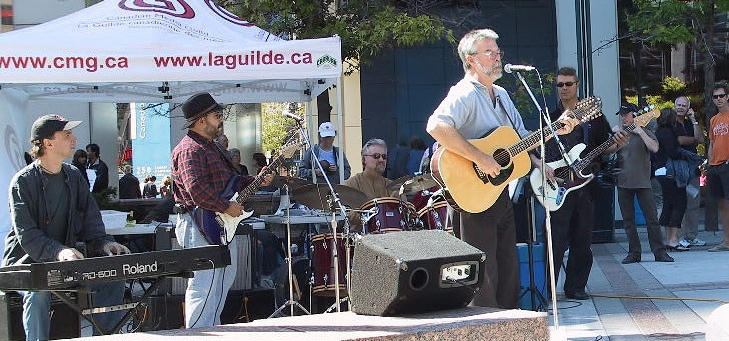 Pictured (from left to right): Colman; guitarist Jeff Cohen; drummer Leigh Robinson; singer Garth Douglas; bassist Peter LeBlanc
---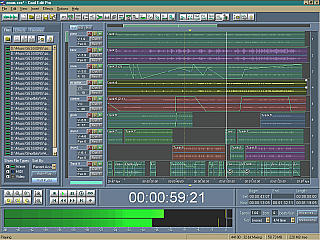 With the advent of computers and MIDI (Musical Instrument Digital Interface), the creative possibilities available to artists like Colman have expanded enormously, and in the summer of 2000 he enrolled in an intensive 6-week course to master professional level music and audio production software. He continues to maintain his own home media production suite, where he has scored background music for his documentaries for CBC Radio's IDEAS, including "The Bacteria Revolution"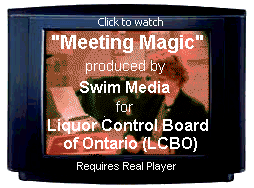 , and the 5-part IDEAS series entitled "Antibiotics vs. the Superbugs, or Whose Planet is This Anyway?"; a few commercial video projects produced by Swim Media,

including a short primer on organizing meetings for the Liquor Control Board of Ontario (click on the right to watch - requires Real Player, starts on black screen with music at first); a 4-part community cable television series he produced in the early 1990s, a short television essay written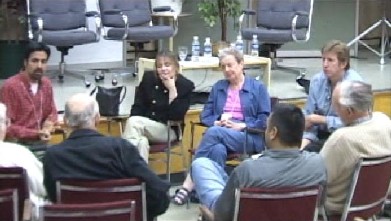 by the Canadian actor R.H. Thomson and aired on CBC News: Sunday in July 2005; and Colman's 2-part independent radio documentary, "Pulling the Plug: The CBC Lockout and the Future of Public Broadcasting in Canada". Colman enjoys the challenge of working on shorter, more uptempo projects, and looks forward to doing more of this kind of music composition for film and video - as well as selected live performances - as time permits.
---
E-mail: webmail@colman.net
Last updated May 16, 2010
Copyright © 2010 by Colman Jones. All rights reserved.